super bright LEDs supplier
| SEVEN SEGMENT LED >> DOUBLE DIGITS >> seven segment LED 0.39 inch 2 digit
| Contact us | betlux@betlux.com

Feature:

0.39 inch double numeric LED display
0.39 inch digit height(10.0mm)
widthxheight: 19.9*12.8mm
Low Current Operation
Common Anode and Common Cathode available
Excellent Character Appearance
High Light Output
Easy Mounting On PC Boards or Sockets
IC Compatible
Multicolor Available
Categorized for Luminous Intensity
Technically Rugged
Standard: Gray Surface, White Segment
RoHs Compliance

Applied for:

Super bight LED diodes Electrical-optical characteristics: (Ta=25掳C) (Test Condition: IF=20mA)

Package configuration & Internal circuit diagram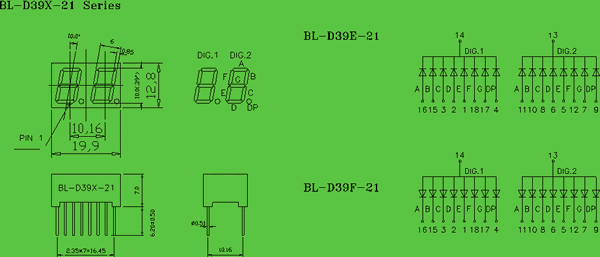 Notes:
1. All dimensions are in millimeters (inches)
2. Tolerance is 卤0.25(0.01")unless otherwise noted.
3. Specifications are subject to change without notice.
Lens Color:
| | | | | | | |
| --- | --- | --- | --- | --- | --- | --- |
| Code | D | T | C | W | E | |
| Meaning | color Diffused | Color Tinted | Water Clear | Water Diffused | Orange diffused | |
Absolute maximum ratings (Ta=25掳C)
Parameter
SR
LR
UR
UE
UY
UG
PG
BG
B
UB
UV
W
Unit
Forward Current I F
25
25
25
30
30
30
30
30
30
30
30
30
mA
Power Dissipation P d
60
60
60
65
65
75
110
110
120
120
120
120
mW
Reverse Voltage V R
5
5
5
5
5
5
5
5
5
5
5
5
V
Peak Forward Current I PF (Duty 1/10 @1KHZ)
150
150
150
150
150
150
150
100
100
100
100
100
mA
Operation Temperature T OPR
-40 to +80
掳C
Storage Temperature T STG
-40 to +85
掳C
Lead Soldering Temperature T SOL
Max.260卤 5掳C for 3 sec Max. (1.6mm from the base of the epoxy bulb)
掳C
Related Products:
1.8mm LED | 3mm LED | 4mm LED | 5mm LED | 8mm LED | 10mm LED | 20mm LED
Oval LED | Piranha LED | multi-color LED | Blinking LED | Infrared LED | SMT LED | high power LED