LED light bar, bar arraygraph Manufacturer
| LED BAR >> LIGHT BAR >> LED light bar(rectangular ,1 bar,12.00*6.00mm)

Feature:

LED light bar(rectangular,12.00*6.00mm)
Lightbar LED
Features:
Display area shape: rectangular
Display area number: 1
Reflector length:12.00mm
Reflector width:6.0mm
Uniform Light Emitting Area
Low Current Operation
Wide viewing Angle
Uniform Light Emitting Area
Easily Mounted on P.C. Boards
Flush Mountable
Excellent On/Off Contrast
Can be Used with Panels and Legend Mounts
Categorized for Luminous Intensity
Different Colors in One unit Available
Standard: Black Face , White Segment
RoHs Compliance

Applied for:

Super bight LED Electrical-optical characteristics: (Ta=25³cC) (Test Condition: IF=20mA)

Package configuration & Internal circuit diagram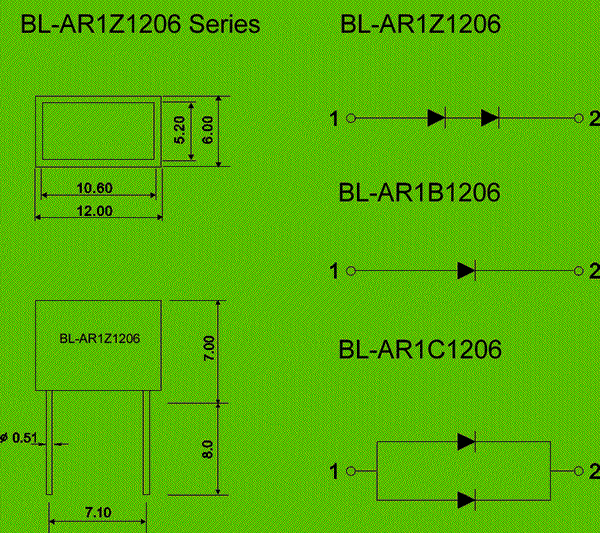 Notes:
1. All dimensions are in millimeters (inches)
2. Tolerance is dS0.25(0.01")unless otherwise noted.
3. Specifications are subject to change without notice.
Reflector Surface color (1st number)/ Bar Lens color (2nd number):
| | | | | | | |
| --- | --- | --- | --- | --- | --- | --- |
| Number | 0 | 1 | 2 | 3 | 4 | 5 |
| Ref Surface Color | White | Black | Gray | Red | Green | |
| light bar Epoxy Color | Water clear | White diffused | Red Diffused | Green Diffused | Yellow Diffused | |
Absolute maximum ratings (Ta= 25³cC)
Parameter
S
D
UR
E
Y
G
Unit
Forward Current IF
25
25
25
25
25
30
mA
Power Dissipation Pd
60
60
60
60
60
65
mW
Reverse Voltage VR
5
5
5
5
5
5
V
Peak Forward Current IPF (Duty 1/10 @1KHZ)
150
150
150
150
150
150
mA
Operation Temperature TOPR
-40 to +80
³cC
Storage Temperature TSTG
-40 to +85
³cC
Lead Soldering Temperature TSOL
Max.260dS 5³cC for 3 sec Max. ( 1.6mm from the base of the epoxy bulb)
³cC
Absolute maximum ratings (Ta= 25³cC)
Parameter
UHR
UE
YO
UY
UG
PG
UB
UW
Unit
Forward Current IF
30
30
30
30
30
30
30
30
mA
Power Dissipation Pd
75
65
65
65
75
110
120
120
mW
Reverse Voltage VR
5
5
5
5
5
5
5
5
V
Peak Forward Current IPF (Duty 1/10 @1KHZ)
150
150
150
150
150
150
100
100
mA
Operation Temperature TOPR
-40 to +80
³cC
Storage Temperature TSTG
-40 to +85
³cC
Lead Soldering Temperature TSOL
Max.260dS 5³cC for 3 sec Max. ( 1.6mm from the base of the epoxy bulb)
³cC
Related Products:
LED array graph display | Arrow LED display | light bar