super bright RGB-color LEDs supplier
| LED diode >> SMD LED >> 2724 RGB SMD LED

Feature:

Features:
lð 2.7mmx2.4mm SMD,PLCC4 package
lð RGB type, Ultra brightness
lð Compatible with automatic placement equipment
lð WIDE VIEWING ANGLE.
lð IDEAL FOR BACKLIGHT AND INDICATOR.
lð PACKAGE:500PCS/REEL
RoHs Compliance

Applied for:

Super bight LED diodes Electrical-optical characteristics: (Ta=25³cC) (Test Condition: IF=20mA)

Package configuration & Internal circuit diagram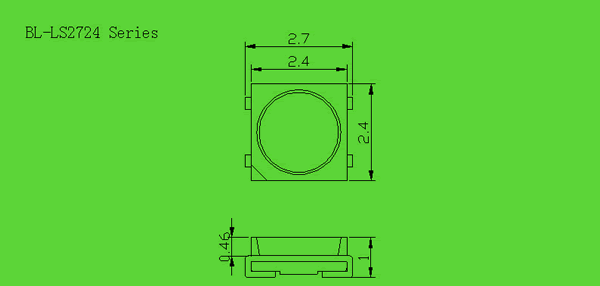 Notes:
1. All dimensions are in millimeters (inches)
2. Tolerance is dS0.25(0.01")unless otherwise noted.
3. Specifications are subject to change without notice.
Lens Color:
| | | | | | | |
| --- | --- | --- | --- | --- | --- | --- |
| Code | D | T | C | W | E | |
| Meaning | color Diffused | Color Tinted | Water Clear | Water Diffused | Orange diffused | |
Absolute maximum ratings (Ta=25³cC)
Parameter
UE
PG
UB
Unit

Forward Current I F

30
30
30
mA

Power Dissipation P d

65
110
120
mW

Reverse Voltage V R

5
5
5
V

Peak Forward Current I PF

(Duty 1/10 @1KHZ)

150
150
100
mA

Operation Temperature T OPR

-40 to +80
³cC

Storage Temperature T STG

-40 to +85
³cC
Lead Soldering Temperature T SOL
Max.260dS 5³cC for 3 sec Max. (1.6mm from the base of the epoxy bulb)
³cC
Related Products:
1.8mm LED | 3mm LED | 4mm LED | 5mm LED | 8mm LED | 10mm LED | 20mm LED
Oval LED | Piranha LED | multi-color LED | Blinking LED | Infrared LED | SMT LED | high power LED