your trust LED supplier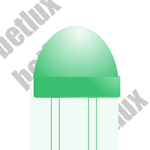 BETLUX provide following LED LAMPS, STANDARD LED LAMPS,ULTRA BRIGHT LED LAMPS,BI-COLOR LED LAMPS ,FLUX LED LAMPS,BLINKING LED LAMPS,INFRARED EMITTING DIODES ,SILICON PHOTO DIODES.

Through-hole Lamps-Standard and super bright
The super bright series of through-hole LED lamps in 3mm, 4mm, 5mm, 8mm and 10mm diameter round packages, 2mm square-top packages and other variations are available in several package options, spatial radiation patterns and a full spectrum of colors from AlInGaP and InGaN processes. These lamps are molded from an advanced optical grade epoxy, which provides superior high temperature performance and excellent moisture resistance.
Through-hole LEDs are suitable for all applications requiring backlighting and status indication.. Manufacturers of signs and message panels as well as consumer electronics and automotive interiors use LEDs to add value to their products. Lowe power consumption, high reliability and a broad range of colors and packages are just a few reasons why.
Applications
Signs and signals
Road Safety signs
Exit signs
Moving message panels
Static message display
Consumer
Appliance
Audio
Gaming and vending machines
Electronic toys and games
Automotive interior
Other
Exercise equipment
Medical equipment
Front panel industrial equipment
our Part No conerned: BL-, BL-LF