LED neon, LED module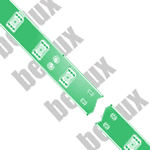 BETLUX®designs and manufactures many different type of LED strip lights for multipurpose use, which include SMD type LED, PLCC LEDs with round or flat lens, Super Flux LED, through hole LED, etc.These LED strips come in different colors and sizes to suit your needs. We provide custom sizes and configurations for more specialized applications.
These LED strips can be used as a replacement or accent lighting in commercial, residential and industrial environments; can be used as backlighting in decoration and advertisement; can be used in illumination devices, etc.Applications for our LED products is virutally limitless. By utilizing these LED products, we can create some really unique and eye-catching solutions.
Because of the low power consumption, and high reliability of these lights they can also be used for alternative lighting sources and can even be powered by battery or solar systems to greatly reduce energy consumption.
Contact BETLUX for all your lighting needs.
LED strip catalogues by LED type
SMD type LED Strip Lighting
PLCC LED round lens Strip Lighing
PLCC LED flat lens Strip Lighing
Super Flux LED strip lighting
Through-hole LED strip lighting
LED strip catalogues by LED color
LED COLOR CHANGING LIGHT STRIP(RGB color LED strip)
LED COLOR BLINKING LIGHT STRIP(blinking, flashing)
LED MONO COLOR LIGHT STRIP(single color LED strip,AlInGaP [Red, Amber],InGaN [Blue, Green, White])

| PIC | Product | P/N | PDF |
| --- | --- | --- | --- |
| | LED STRIP LIGHT, PLCC SMD led type | TLS-SMD-6AUTO | |
| | LED STRIP LIGHT, Super Flux LED type | TLS-FLAUTO | |
| | LED STRIP LIGHT, SMD LED 5050 LED type , MONO COLOR | TLS-SMD-S32A-5050 | |
| | LED STRIP LIGHT, 1W High Power LED Module | TLS-1W-ML45 | |
| | LED STRIP LIGHT, 1W High Power LED Module | TLS-1W-ML38 | |
| | LED STRIP LIGHT, 1W High Power LED Module | TLS-1W-M35 | |
| | LED STRIP LIGHT, Super Flux LED type , MONO COLOR,with Tube,water Proof | TLS-FL-L4Tx-30 | |
| | LED STRIP LIGHT, Super Flux LED type , MONO COLOR,with Tube | TLS-FL-L4Tx-30N | |
| | LED strip light, RGB color, Top LED type, Flexible,waterproof | TLS-SMD-10F-RGB-60 | |
| | LED strip light, RGB color, Top LED type, Flexible,waterproof | TLS-SMD-10F-RGB-30 | |
| | LED STRIP LIGHT, 5050 Top LED type , MONO COLOR,waterproof | TLS-SMD-10F-5050x-30 | |
| | LED STRIP LIGHT, 5050 Top LED type , MONO COLOR,waterproof | TLS-SMD-10F-5050x-60 | |
| | LED STRIP LIGHT, 5050 Top LED type , MONO COLOR | TLS-SMD-10F-5050x-30N | |
| | RGB LED strip control unit | TLS-CTR-RGB | |
| | RGB LED strip control unit | TLS-CTR-RGB | |
| | FLEXIBLE LED STRIP LIGHT, PLCC SMD LED LED type | TLS-SMD-300 | |
| | STRIP LIGHT, RGB COLOR | TLS-SMD-10H-RGB | |
| | STRIP LIGHT, SINGLE COLOR | TLS-SMD-10H | |
| | LED strip light, RGB color, Top LED type, Flexible | TLS-SMD-10F-RGB-60N | |
| | LED strip light, RGB color, Top LED type, Flexible | TLS-SMD-10F-RGB-30N | |
| | LED STRIP LIGHT, Top LED type , RGB COLOR | TLS-SMD-10F-RGB | |
| | LED STRIP LIGHT, 5050 Top LED type , MONO COLOR | TLS-SMD-10F-5050x-60N | |
| | LED STRIP LIGHT, Top LED type , MONO COLOR | TLS-SMD-10F | |
| | LED STRIP LIGHT, Through-hole , MONO COLOR | TLS-R5-200 | |
| | LED STRIP LIGHT, Super Flux LED type , MONO COLOR | TLS-FL-S40A | |
| | LED STRIP LIGHT, Super Flux LED type , MONO COLOR | TLS-FL-S40 | |
| | LED STRIP LIGHT, Super Flux LED type , MONO COLOR | TLS-FL-L40 | |
| | LED STRIP LIGHT, Super Flux LED type , MONO COLOR | TLS-FL-73 | |
| | FLEXIBLE LED STRIP LIGHT, Flat top LED type , MONO COLOR | TLS-F3-96 | |
| | LED STRIP LIGHT, SMD LED 3528 LED type , MONO COLOR | TLS-SMD-S32A-3528 | |